Highlights from Evergreen Line and Greencarrier Liner Agency's 40 years of cooperation
On the 1st of September 2018 Evergreen Line is celebrating their 50-year anniversary. As agent for Evergreen Line, Greencarrier Liner Agency and our owner Stefan Björk will celebrate their 50 years of success in the container shipping industry by sharing some highlights from our journey together.
The starting point for Evergreen Line
In September 1968, Dr Yung-fa Chang purchased a second hand cargo vessel and with that Evergreen Marine Corporation was born. Just 50 years later Evergreen Line operates as the fourth largest container fleet in the world, with 196 vessels by a capacity of approximately 1,1 million TEUs. Evergreen has become a global business embracing not only shipping, but also port terminals, aviation, heavy industrial development and hotel and resort services.
The world has changed considerably since 1968, and therefore we thought it would be interesting to share some highlights from Evergreen's journey in an interview with our founder of Greencarrier Group and Chairman of the Board Stefan Björk, who has been working in close cooperation with Evergreen for 40 of these 50 years.
How did Evergreen's and Greencarrier's roads cross?
– It all started back in 1979 when Evergreen introduced their European container traffic. The company Melship was the appointed agent for Evergreen Line in Gothenburg, Sweden. I started to work at the sales department and after a couple of months I became commercially responsible for all Evergreen business. We were four persons working with the agency, and this I would say was also the starting point for the Greencarrier Group.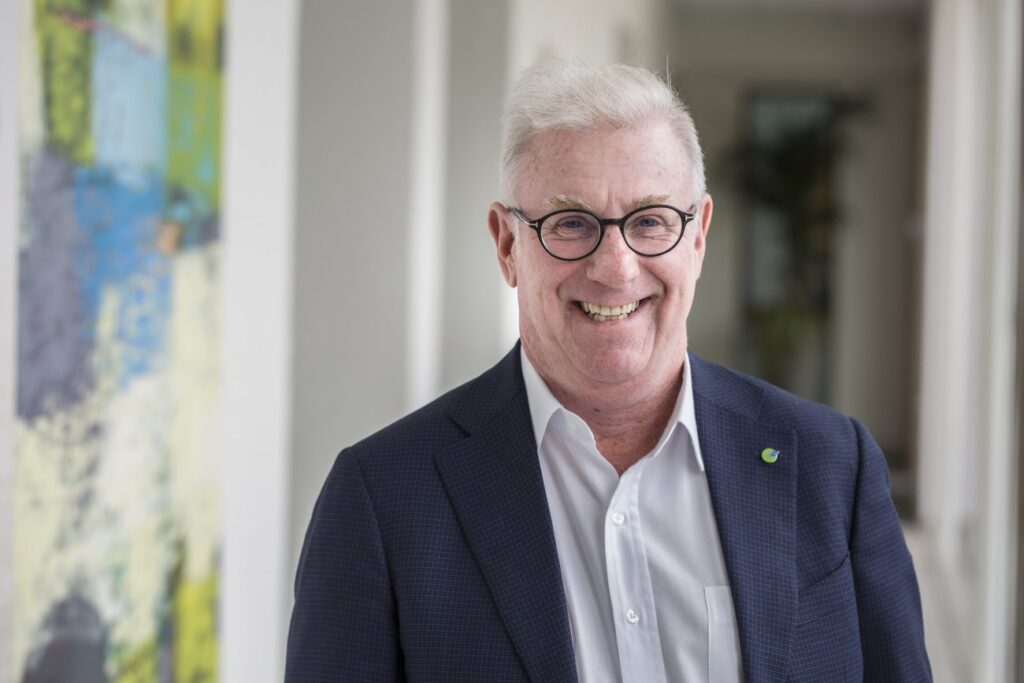 How was the shipping industry like in the 1970-90s?
– It is important to have some understanding for what the world of shipping was like back then. The shipping lanes were divided into conferences, like big coalitions where all shipping lines with traffic between Asia and Europe were connected. This system of conferences goes back to the late 19th century when the whole world trade of shipping were divided into conferences for different trade lanes. It was all strictly governed from London which was followed by all shipping lines.
– The customers signed a one-year contract with the conference for their shipments and they got the fixed rates and a discount for signing one year at a time. It's also important to know that it was a lack of space during this time, there was more cargo than space available, the reverse compared to the market situation today, so it was the shipping companies who possessed the power and many times there was waiting time for a booking.
Was Evergreen an outsider or a challenger in the world of conferences?
– Back then, Evergreen Line was an unknown shipping company, from Taiwan which also was an unknown country for many people. Evergreen came as an outsider, not part of the conference system, Far Eastern Freight Conference (FEFC), and challenged the whole establishment with their own rates. I would say that Evergreen entrance into the European market lead to a collapse of the whole establishment of conferences and resulted in an open market competition. Later these conferences were outlawed.
What is your best memory of Evergreen during the 40 years you have been working together?
– I have a very strong memory of a customer situation where Evergreen and we changed the whole traffic patterns for a specific customer and their need. It was during the 80's when a Swedish beverage company's export increased extensively. Their factory was situated in a small village in the south of Sweden, a small fishing village with narrow streets and small houses. The export volumes were all time high and the cargo needed to be moved by trucks through the village to the port of Gothenburg or Helsingborg for shipments. The truck traffic through the small streets would be devastating for the village, so instead Evergreen and we found a new solution together with the customer. We opened up a new feeder line calling the village and Hamburg directly instead of taking all the heavy trucks through the village.
– This was completely in line with ours and Evergreen's sustainability work and it was not only an environmental friendly solution, it was also a solution fitting the customers need and when calculating the bottom line it was also more cost efficient. I also would like to add that many other carriers rejected this solution. But I'm glad we didn't, because by being innovative and to think outside the box, this resulted in a new transport solution and a deeper customer relationship.
What can you say about the future of shipping and Evergreen Line?
– When looking into shipping and trade in general I would say that despite all trade barriers, taxes and fees I think the world will be even more globalized in the future. Even if we will take two step forward and one steps backwards we will move towards a globalization to a greater extent. In the globalization I think container transports is, by far, the best way for delivering a very good service at a competitive price. Container vessels will remain in the future even if they will be developed to the better, more environmental friendly – running on lower fuel and using bunker oil of better quality. In addition proven design concepts have been developed, such as double skin fuel oil tanks, a low sulphur fuel supply system and electric deck machinery.
– We live in a world of consumption. Commodities will always be produced in different places of the world and need to be transported to consumers. Therefore shipping and container transports will be needed even in the future. The population of the world is also growing and we will get even bigger markets to serve in the future. So for sure, there will be a future for container shipping.
– To summarize, the globalization and the trade are two good phenomenons for the world and humanity. It's actually a contributing factor for reducing world poverty and war. Trade enforces communication and communication will help us avoid world conflicts.
– When looking into Evergreen Line in specific I would say that their strength is that they are a strong and independent player. Today they are a part of the OCEAN alliance but they have one strong owner family, which make it easier to make decisions independently. Another key for success is that they have a sustainable and long-term approach when taking decisions and making investments, which is also a strength when you are a company of that size. I hope we will get the honor to continue our successful cooperation and partnership with Evergreen for many more years to come and I wish them a very happy 50-year anniversary!
Thank you, Stefan!
We hope you have enjoyed reading this interview and do not hesitate to get in touch with us in the comment field below. If you want to learn more about Evergreen Line, check their website. Find other interesting articles at Greencarrier Liner Agency's Knowledge Center.